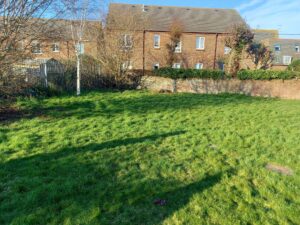 The Willow Garden is an exciting new project which will see an under-utilised area of grass, transform in to a community garden in the grounds of Forton Road Medical Centre, Gosport.
Originally the idea of Willow Group GP Dr Robin Harlow to create a garden that benefits patients, staff, groups and the wider community, a steering group has now been formed consisting of the Willow Group, Care Commissioning Group, Love Outdoors CIC, Abri and Shore Leave Haslar. A wider group includes Brighterway, Gosport Allotment Association, Gosport Voluntary Action and Gosport Friends of the Earth.
In June 2022, the garden will be officially launched, and the draft plan will be available, drawn up by local surveyor and designer Brian Hindle, of BJH Property Services. This is a really exciting project which aims to reach groups that will benefit most from spending time outdoors and in the garden. We will also be looking for regular volunteers to help create and maintain the garden.